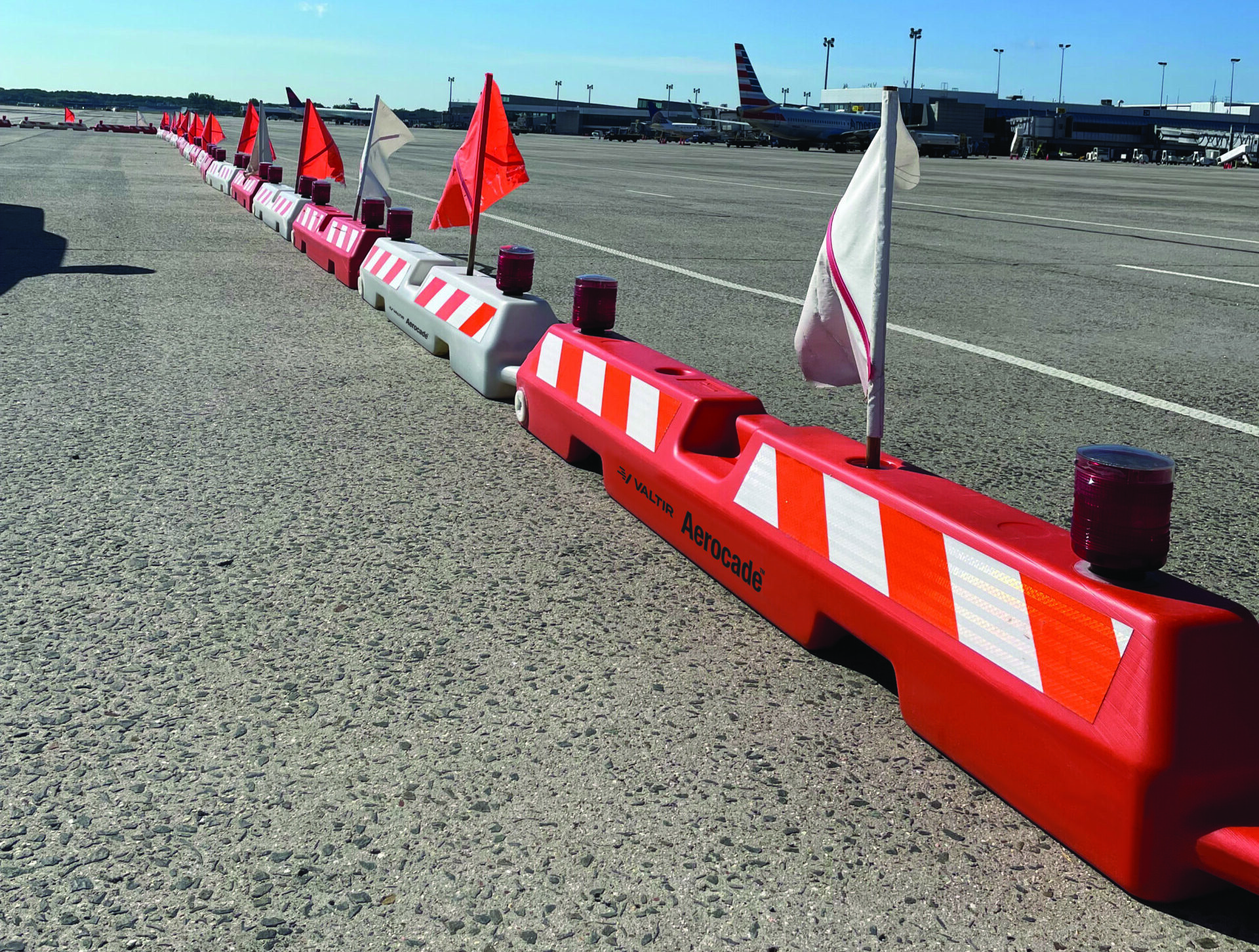 Safety and Visibility Are Key Needs in Airport Construction
Safety and Visibility Are Key Needs in Airport Construction
Valtir | August 1, 2022
Whether an airport project is new construction, repair or replacement, the methods and materials of choice all need to provide safety while the work is in progress and afterward, when the facility or runway is in use.
A well-known construction safety solution is the Aerocade Airport Barricade, a low-profile, water-filled, collapsible device that delineates work zones for construction and maintenance on airport runways and taxiways. It can be interconnected end-to-end for use as a demarcation device and accessorized with warning lights and flags.
The barricade is used for airport construction and maintenance, runway and taxiway projects, and as a navigational aid in and around the airfield. The Aerocade, a product of Valtir, LLC (formerly Trinity Highway), is also designed to meet the FAA Advisory Circular 150/5370-2G.
"Whether long- or short-term, we are excited about all of our rental projects, like the recent two-month rental project at Bradley International Airport where our barricades were used," said Valtir Rental and Sales Representative Eileen Gregory. "We received nothing but compliments for our service and company."
Convenience and safety factors include: reflective sheeting for increased visibility, which can be accessorized with warning lights and flags, and is collapsible and stackable for more efficient transportation and storage. The FOD-free design offers jet blast resistance when properly filled with water. Valtir, LLC is a global supplier of commercial highway products, including guardrails, end terminals, cable and steel longitudinal barriers, crash cushions, truck and trailer mounted attenuators, water-filled barricades, sign supports, and delineators. Valtir's products are tested to, and eligible for, reimbursement under established U.S. federal crash test standards and FAA Advisory Circulars, and our products meet FAA's American Made Designation.
"Waters Construction has proven themselves once again at the Taxiway Rehabilitation of Taxiway S at Bradley International Airport," said Gregory. "During a time of material delays and labor shortages; we are humbled to provide our signature airport barricades, Aerocades, along with lights, flags, and Lighted "X" Runway Closure Trailers.  We pride ourselves on our above and beyond customer service to serve customers such as Waters.  While Waters Construction continues to successfully and effectively produce high-quality work on time, we look forward to partnering with them again in the near future."
Source: ENR Magazine