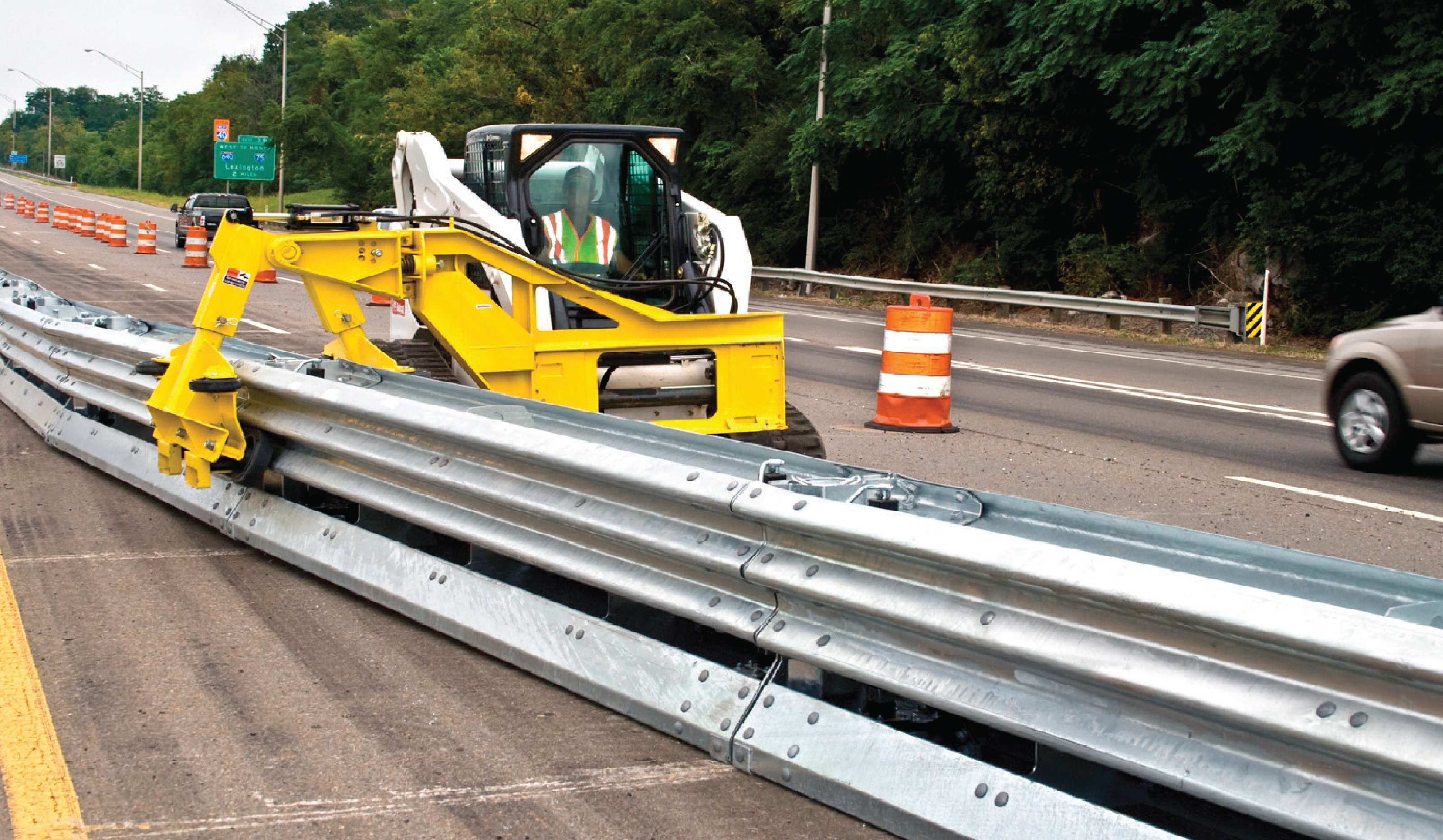 Moveable Barrier Finds Niche on Highway Projects
Moveable Barrier Finds Niche on Highway Projects
Modern Contractor magazine | July 2012
Protecting the Motorist
TDOT is committed to doing its part in protecting motorists from the rock falls and sink holes occurring on, and adjacent to, the highway. Debris from these slides often ends up in the travel lanes of the roadways posing a serious threat to vehicular traffic. TDOT maintenance crews must erect temporary traffic control to safely channelize traffic around the obstruction until repair crews or contractors can be called in to correct the problem. This process was traditionally done using drums and cones, which were fast and easy to deploy, but they did not provide positive protection and could allow vehicles to inadvertently impact debris fields. While portable concrete barrier has been used for many years as a solid redirective barrier for work zones and affected areas along the highway, its use was very limited for unforeseen emergency applications due to its weight, required equipment, and difficulty in handling. At an average of 450 to 500 pounds per foot, a user could only load about 110 to 120 linear feet of portable concrete barrier on a standard 40-foot tractor trailer, and crews required a boom truck, crane, or track loader to offload and set the barrier. These two factors alone essentially eliminated the use of portable concrete barrier for emergency deployment situations.
Solution to Barrier Deployment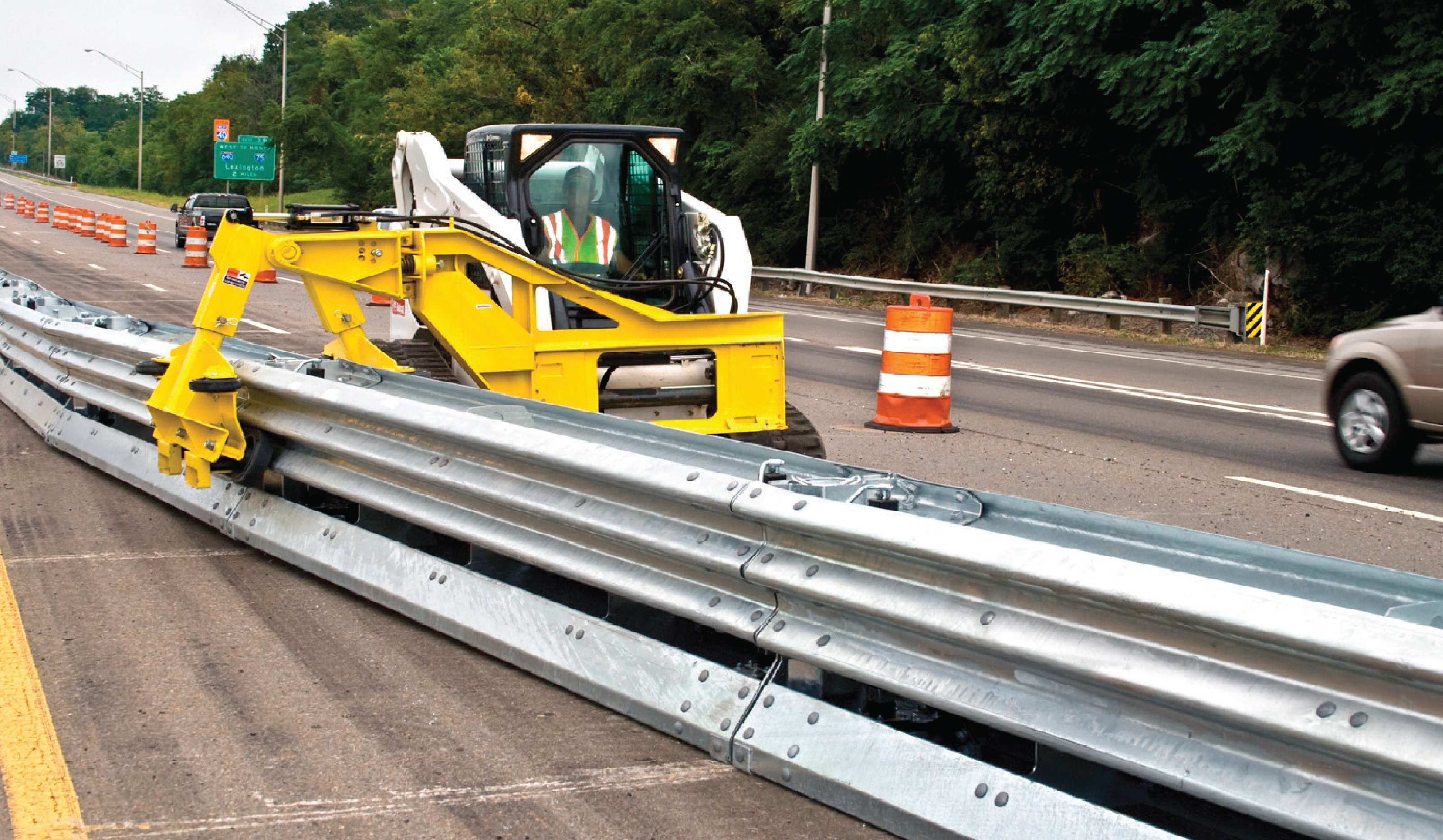 In 2007, TDOT approached Gulf Industries, a local provider of traffic safety equipment, looking for solutions
to its problem of rapidly deploying barriers that offered positive protection. Seeing that concrete barriers would not solve their problem, Andre Favret of Gulf Industries suggested using the Vulcan Steel Barrier from Energy Absorption Systems/Trinity Highway Products. After a short demonstration on a section of I-40, TDOT made its first purchase of 100 13.5-foot sections for maintenance and traffic control activities.
TDOT observed that the footprint of the Vulcan Barrier in the yard was essentially the same whether stored on the ground or on a trailer. They decided that using dedicated trailers for the Vulcan Barrier would reduce cost and deployment times, enabling the maintenance department to respond much quicker to highway emergencies. While TDOT's standard lowboy trailers worked well for the Vulcan Barrier, they were not optimized for storage and operation, so TDOT decided to acquire custom trailers for storing and transporting a dedicated amount of Vulcan Barrier. The 28-foot-long, double-axle trailers hold 16 sections, or 215 linear feet, of Vulcan Steel Barrier. This is double the amount of concrete barrier that could be transported on a 40-foot tractor trailer. The product has proved so durable that TDOT has not had to purchase any parts for repair in the last 5 years. TDOT is actively using the Vulcan Steel Barrier in all four of its districts.
Creating Work Zones
TDOT is not the only user of the Vulcan Steel Barrier in Tennessee. Several highway contractors use the product extensively for short and longer term work zones. Superior Traffic Control-Memphis (STC) of Memphis, Tennessee, owns several thousand feet of the product. Rebecca Wood, president of STC, states, "We use the Vulcan Barrier as an integral part of our traffic control operations. The barrier is lightweight and highly portable, and allows our crews to quickly set up protected work zones for our customers. We use the Vulcan for overnight and weekend work zones where we are only allowed to close a lane of traffic for a short period of time. Our crews are able to position the barrier by hand at the beginning of an evening and then quickly move the barrier to the shoulder in the morning so that the lane is open to rush hour traffic."
Barrier Functionality
With the use of a the Vulcan Transfer Attachment (VTA) connected to a small skid steer or front end loader, the barrier can be moved laterally 12 feet at a rate of 5 mph, allowing the opening or closing of a ½-mile-long work zone in about 20 minutes. This configuration of the Vulcan Barrier makes the product ideal for work zones in highly congested areas where longitudinal barrier must be moved multiple times per day or weekend to accommodate peak and off-peak traffic volumes. When the work zone is inactive, the Vulcan Barrier is stored out of the way of traffic on the shoulder. When an active work zone is required, the contractor uses the VTA to quickly move the barrier out into the roadway to close the lane to traffic and secure the work zone.
Source: Modern Contractor magazine