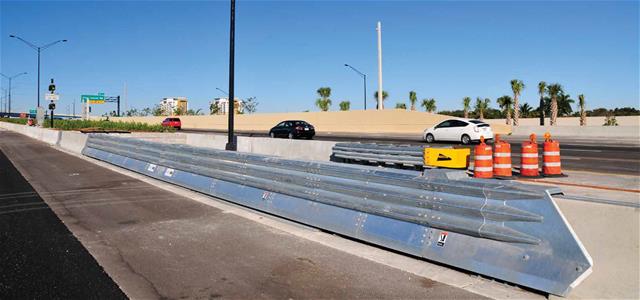 Improvements to the I-595 Express Corridor: Installing an Incident Management System
Improvements to the I-595 Express Corridor: Installing an Incident Management System
Modern Contractor Magazine | March 2015
I-595 is Broward County's major east-west thoroughfare located in Broward County, Florida, handling more than 180,000 vehicles per day, and by 2034, that number is projected to swell to beyond 300,000 vehicles per day. In 2009, The Florida Department of Transportation (FDOT) signed a public-private partnership (P3) agreement with I-595 Express, LLC to serve as the concessionaire to design, build, finance, operate, and maintain (DBFOM) the I-595 Corridor Expressway Improvements Project for a long-term commitment of 35 years. Construction began in February 2010 with a total project length of 13 miles and a design and construction cost of approximately $1.2 billion—the largest P3 project in Florida to-date. Dragados-USA was chosen as the lead design-build contractor and completed the project in March 2014.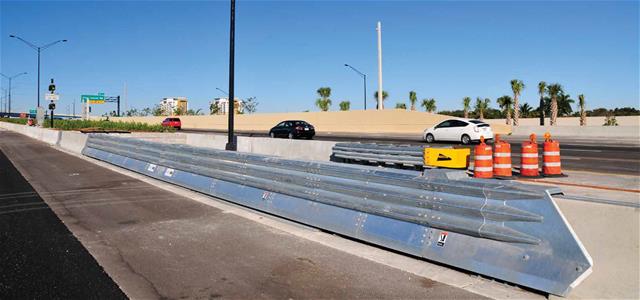 Key Project Statistics
• Three reversible express lanes created in the I-595 median.
• Over 275 local companies employed on the project.
• Averaged more than 2,000 employees per month working directly on the project.
• Average monthly construction expenditure: $17.1 million.
• Over a million$/day spent on temporary work zone services.
Incident Management System
The I-595 Express Corridor Improvements Project implemented an extensive incident management system to operate within the corridor and included CCTV cameras, traffic detectors, and other measures to reduce the effects of crashes and breakdowns on traffic flow. Dedicated road rangers provide necessary assistance to stranded motorists and support incident management. One of the challenges they faced was in providing access points to speed up the response time during an incident. Manufactured by Trinity Highway, the BarrierGate® (Emergency Access Gates-EAG) is an automated gate for barrier openings used for Incident Management Systems, HOV Lanes, Median Crossover, and Reversible Lanes. The I-595 Corridor Expressway project included five BarrierGates strategically placed throughout the corridor to provide the necessary access points for incident responders into the Express Lanes. SICE, Inc., a division of Dragados-USA, operated as the subcontractor for the design and installation of the Intelligent Transportation System (ITS). Juan Rodriguez, deputy design manager with SICE, was responsible for managing the unique and complex ITS design and installation of this system.
Juan states, "The Trinity BarrierGate is remotely operated through an interface between the Access Control Unit (ACU) housed in a control panel box near each gate location and the Traffic Management Center (TMC), which is operated 24/7/365 and located in FDOT's District Four office in Fort Lauderdale. The project RFP specified an EAG that could provide the operational interface between the EAG's and the other components. This had never been done before; the Trinity BarrierGate was the only product that could meet those requirements. We also required a supplier who could provide the technical support for this unique installation and also meet the demanding delivery time required by the project schedule. The advanced software, critical to this interface, was newly developed. We were able to perform multiple preliminary tests with the BarrierGate at Trinity's manufacturing facility in Pell City, Alabama, prior to the delivery."
Crash Cushions And Barriers
David Feise, I-595 maintenance of traffic (MOT) manager with Dragados-USA, managed all temporary traffic control during the construction phase of the project. This included temporary barriers, striping, and other work zone devices. During the construction phase, the (MOT) plans required 233 temporary QuadGuard II® crash cushions moved to over 811 locations. Typical QuadGuard II devices used were the Standard and Wide models in both NCHRP 350 Test Level 2 & 3 configurations. Especially important to this project, were the 1 bay QuadGuard II models with a system length of 7 feet, the shortest systems available on the market today used at turnarounds under bridges.
Upon completion of the project a total of 68 QuadGuard II units were installed in permanent crash cushion applications. David states, "Since this project required the concessionaire to maintain the 13 miles of roadway for 35 years, maintenance cost was very important to us, not just for the construction but for the overall maintenance life of the expressway. The cost-effectiveness, versatility, and reparability of the QuadGuard II product, which can be installed over a broad range of lengths and backup widths, were critical in our decision process."
Alan Lafferty, sales manager with Gulf Industries in Florida states, "We approached this project with the intent of being a one-stop shop. We provided engineering, sales, and service, including installation and repair support. We were also able to meet the multiple requirements of the various speeds and widths of crash cushions and the unique, highly technical interface of a BarrierGate system. Phase construction was a vital requirement for this project. It gave us very little lead time for delivery and installations, which sometimes had to be made between lane shifts, new traffic patterns, or opening of new ramps."
Gulf Material Sales, LLC is Trinity Highway's distributor for the State of Florida and performed as the lead contact between Dragados and Trinity for the entire duration of the project. Bob's Barricades, Inc. installed the temporary QuadGuard II units and over 5,000 linear feet of Trinity's Triton® Water-Filled Barrier during the construction phase. Gulf worked closely with Bob's and the MOT Manager to ensure orders, deliveries, and field issues were resolved in a timely manner. David adds: "There was a large number of very short and wide gore areas designed into this project, with locations requiring non-typical, somewhat 'tricky' installations. We needed a supplier who could not only meet severe delivery time constraints, but also provide a variety of crash cushion models with the expertise to assist with these unique applications. Gulf provided a 'single-source' for this project that no one else could match."
The QuadGuard Family of crash cushions, manufactured by Trinity Highway, provides exceptional versatility, and will allow the asset management firm to upgrade to the more reusable, lower maintenance QuadGuard Elite® model should impact frequency increase in specific locations or to the QuadGuard M10® (MASH) units should FHWA standards change in the future.
Source: Modern Contractor magazine